An Interview with Trev Morson
"When the power of love overcomes the love of power, the world will know peace."
- Jimi Hendrix.
<![if !supportEmptyParas]> <![endif]>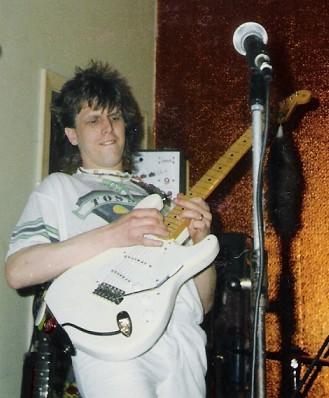 <![if !supportEmptyParas]> <![endif]>
Trev, how long have you been playing for and what kind of music?
(Updated - 2010) - I have been playing for since 1972, my birth place is Liverpool, UK. My very first gig was in summer of 1972 playing Acoustic Guitar/Harmonica, country songs solo in a big Liverpool talent show event. I came fourth in the overall contest and still to this today have the certificate and award. I was hooked from that day forward.
I then played during my last year in high school, 1973 with an Acoustic Guitar (Gibson Humming Bird copy) and Harmonica playing Neil Young, James Taylor, Don Mclean & Simon & Garfunkel type music, solo. In my high school class there were three of us that played guitar and we bounced off each other to learn a lot of songs and playing styles.
I turned down a request (very bad decision on my part) to join a Liverpool band who moved to record originals in London during 1974, later, that same band "Foxglove" appeared on TV numerous times. They where booked by Rod Stewart's manager (Hal Carter), and later they opened for him (and Genesis later) on a world tour.
In 1975, I turned to Electric guitar (Gibson SG copy and then an Ibanez Blazer) playing Rhythm in various pop/rock bands throughout the rest of the 70's in Liverpool. Marc Bolan of T-Rex and Francis Rossi of Status Quo where very early influences for me.
I took up Lead Guitar (Fender Stratocaster) in the early 80's, toured the UK, playing rock/pop, country rock and a lot of 60's Cabaret, which was a "big" money maker at the time. I also studied 'Memphis Blues' in Liverpool for a number of years.
By request (I was scouted), I joined a very well known and seasoned Liverpool Cabaret band named "Flight" full time in 1983 we toured the UK.
We (Flight) where almost signed up by EMI recording label in late 1987. (I am sure lots of bands were 'almost' signed up). But we did get a letter from EMI expressing a BIG interest for an album to be recorded. However, with no advance money offered by EMI, we lacked funds for nine more demo songs of the same 'produced' quality as the three EMI had and liked. UK Radio stations played two of the three songs we recorded in 1987. I learned a lot about singing harmonies with this band. Had this have been the 90's we would surely have been signed and contracted by an independent recording label.
I left the band 'Flight' to move and reside in the US, Chicago, November 16th, 1988.
My musician friends from Liverpool recorded a song for me when I left for the USA, and you can hear it HERE
In the US, 1989, I played with some popular 'Blues' bands in the city of Chicago ('All Bubba Blues Band' was one of them), in addition to various band-work, I took up Solo Piano gigs around 1992. I did some keyboard studio work for B96 radio station in 1994 (and never got paid by them), while at the same time, playing Lead Guitar in various Rock/Alternative bands. "The Landsharks" and "Amok Time where such bands that was quite successful in Chicago.
In the late 90's I left guitar playing for a little while, instead, concentrating on Piano/Keyboards (and family). After a few reunion gigs with ex-band "The Landsharks", I then did 4 years playing with classic rock band "Last Call". In 2008 we formed a new Classic Rock cover band - 'Wolfs Crossing", consisting of very energetic band members with the objective to "rock the house" of any venue we play.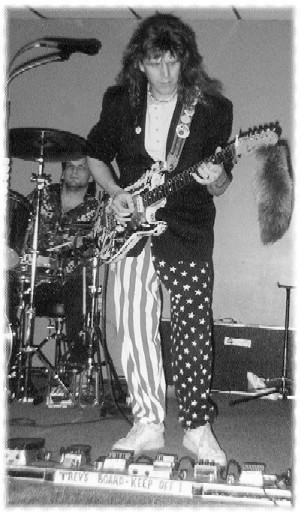 What/Who are your musical influences?
For Guitar, UK rock band Status Quo in the early 70's, and Marc Bolan of T-Rex, but Jimi Hendrix and Eddie Van Halen are my main influences, Jim Hendrix song "Voodoo Chile" is a favorite song as well as "Eruption" - the extended 'live' guitar solo version by Eddie Van Halen.
For Piano, it is George Winston, but more so, Bruce Hornsby. I like innovative musicians, they are far and few between. I studied Jim Hendrix later than most others, and felt I already developed the Hendrix Guitar technique even before listening to him. In 1978 when Van Halen's first album came out, this blew everybody away, nobody had heard anything like it and it took a few years to develop the Eddie Van Halen style of guitar playing. I like musicians that are melodic.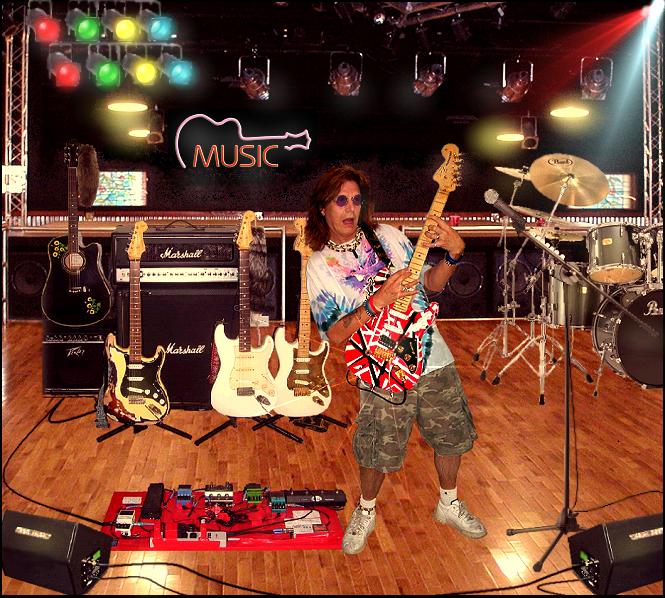 What music gear do you use and/or prefer to have?
I prefer Marshall amps, Crate, Peavey and Fender amps, I am currently using a Peavey 5150 all tube amp, very nice and I have had it completely re-tubed with high gain JJ's.
I play Fender Stratocaster guitars, and I also have an EVH Wolfgang. I use my old and trusty customized 62' Strat' and a partly customized 2005 blonde Strat' that I have as back up, but my main strat is a 100% customized one, click on the "Trev's Custom Strat'" button and see below. I recently acquired a Dunlop Univibe effect pedal to recreate a rotating speaker sound or use it as a Phase. I play a semi-tone down (one step) using Fender #9 gauge strings and white Fender 'medium' picks. More information below...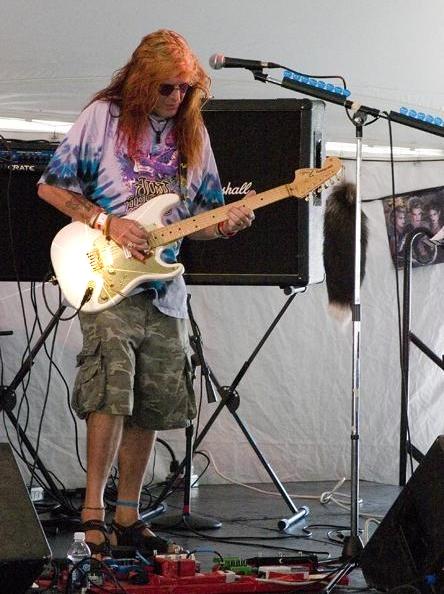 Ok.. lets explain my gear below... (left to right)...
On the far left is my Oscar Schmidt Acoustic guitar - it can plug into my amp and has volume and equalizer controls, very nice.
Under the acoustic is my Peavey Audition 110 - 15W Practice Amp.. that's what I use it for, simply for practice only. It has overdrive and clean channels.
Next is my 62 strat. The body is made of Basswood and scratches/marks quite easily, this was my first Strat' ever. I (silly enough) have set it on fire a few times, hence the burnt markings. I changed out the 62' neck with brass nut and put a 2003 Mexi-Strat' neck on it (from the Strat' described below). It has customized pick up's and has been re-wired as a volume for each pick up, they can be phased or turned off.
Next is my 2003 Mexi-Strat, this has the old 62' neck on it (with brass nut) from the Strat' described above and the original neck from this was placed on the 62' body of the Strat' above. This also has customized pick up's, with a Red Fender Lace Sensor for the bridge pick up. It has vintage parts on the body and has original Kluson machine heads.
Next to that, and on the far right is my "Custom" made Fender Strat'. ...a lot of details on this amazing guitar, so click the button below.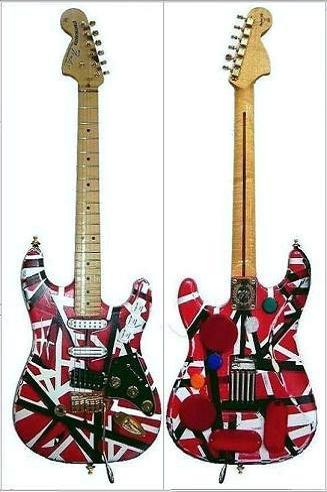 Behind is my stage amplifier head, this is a B-52 AT100 "all tube" 100W amp with three channels, clean, solo and rhythm. This amp is excellent in Tone, Power and Gain. Is has a Tri-Tube Rectifier, but I use it on "Tube A" setting. I purchased this after trying various Marshall amps, Peavey and Fender amps, upon trying this one, I found it much superior to any of the brand names I tried. I use a Marshall AVT-412 cabinet with this amp, it has 4 x 12'' 60W Celestian speakers, so overall, the Tone is quite amazing. I have the amp completely re-tubed with high gain option JJ's and it has become a beast, very nice.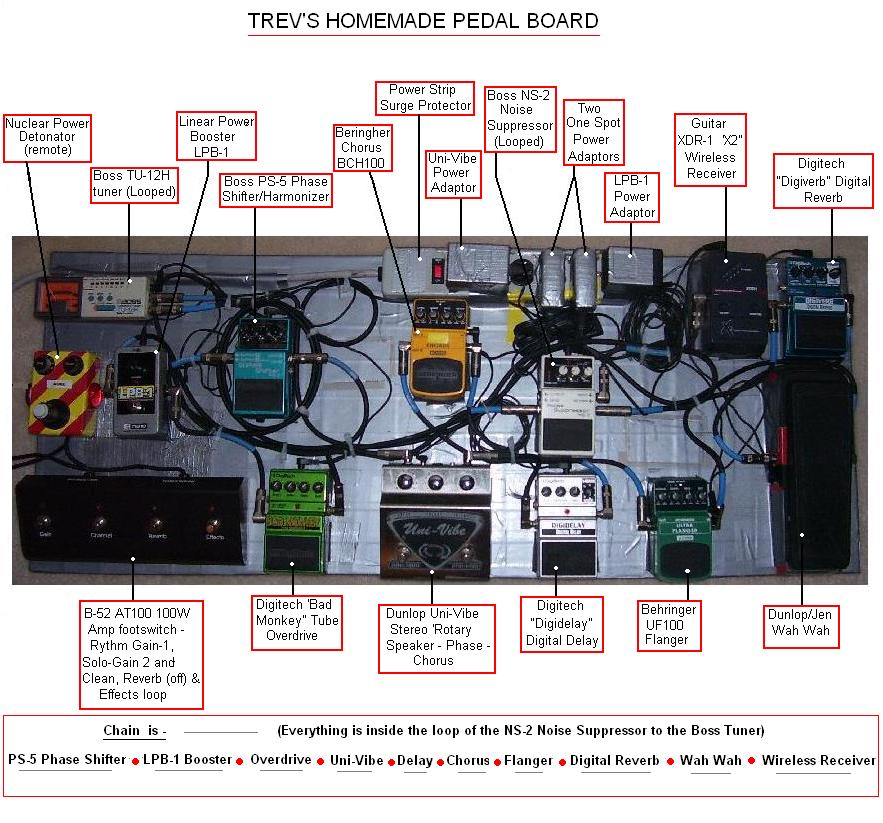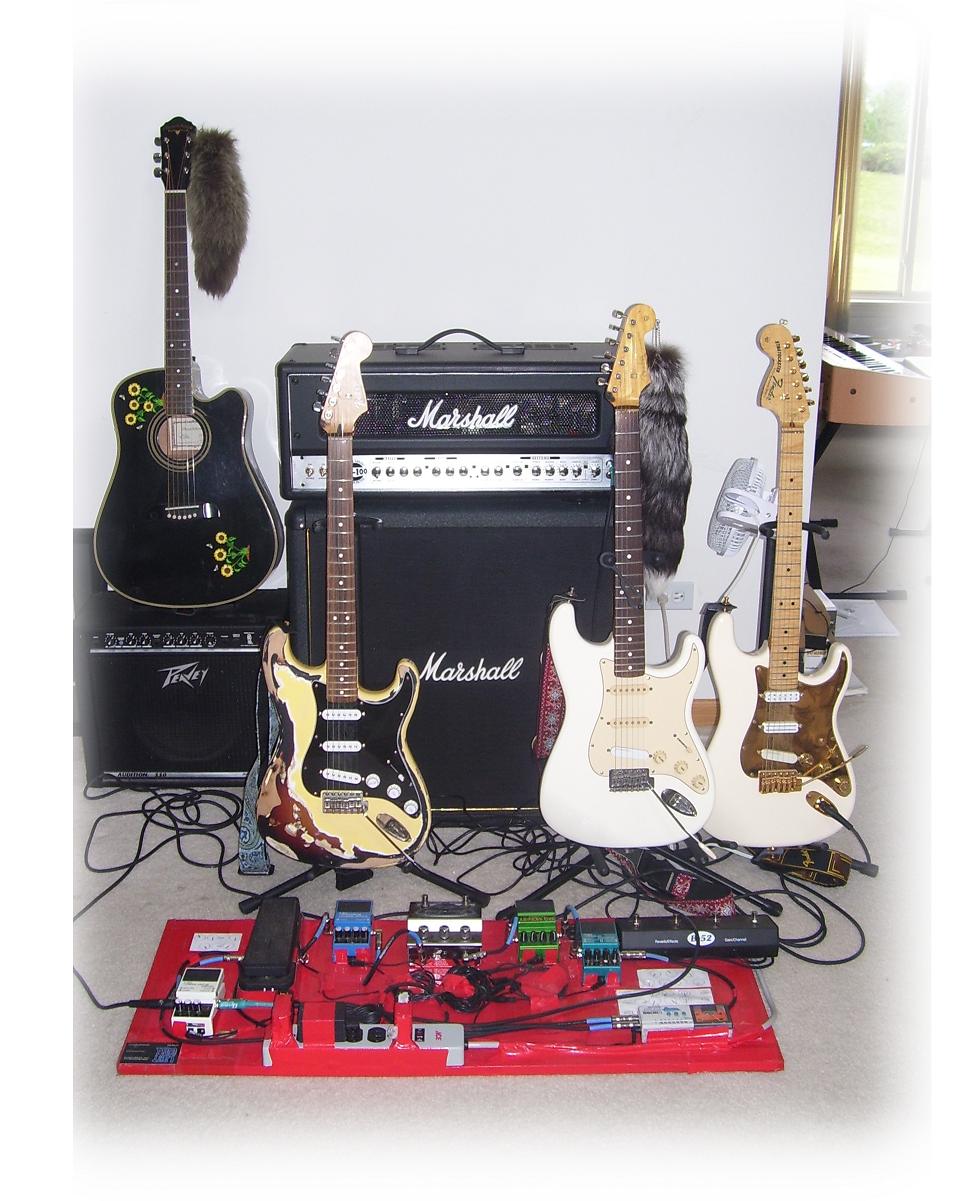 Below is my Digital Piano, it is a Roland F90, with weighted keys, on top is my home recording studio, a Korg D1200 MkII, that records 12 tracks direct to CD. The Roland Piano has a bright tone option for Piano that I use a lot.
Moi!!
<![if !vml]>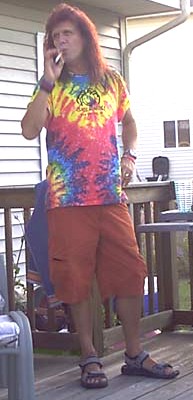 <![endif]>
Outside of music what are your other hobbies?
Family, Boating, Computers, Photography and Flying/Aviation.